Bitcoin
Wall Street Trader's Column™ is the result of over three decades of experience in the stock and commodity futures marketplaces. As a subscriber, you will benefit from years of in-depth study of technical analysis and how these studies can be implemented to make you money. Here at Wall Street Trader's Column™, we screen over 6000 stocks daily--from all major exchanges

---
BitCoin
Harry
™
Daily BitCoin/Crypto Report Nov 2, 2021
Featuring Coins Trading from under $1.00 to more than $50,000 per coin
Wall Street Trader'Column™ www.wstraders.com is a professional advisory service that caters to Banks, Hedge Funds, Money Managers, and Individual Investors. Our Daily, Weekly & Monthly Crypto Reports include the "Low-Risk Entry Point" Price Objectives, Relative Strength, and other indicesn.
---
BUY!
BitCoin To US Dollar
($BTC/USD):
@ $63,500 Stop!
--->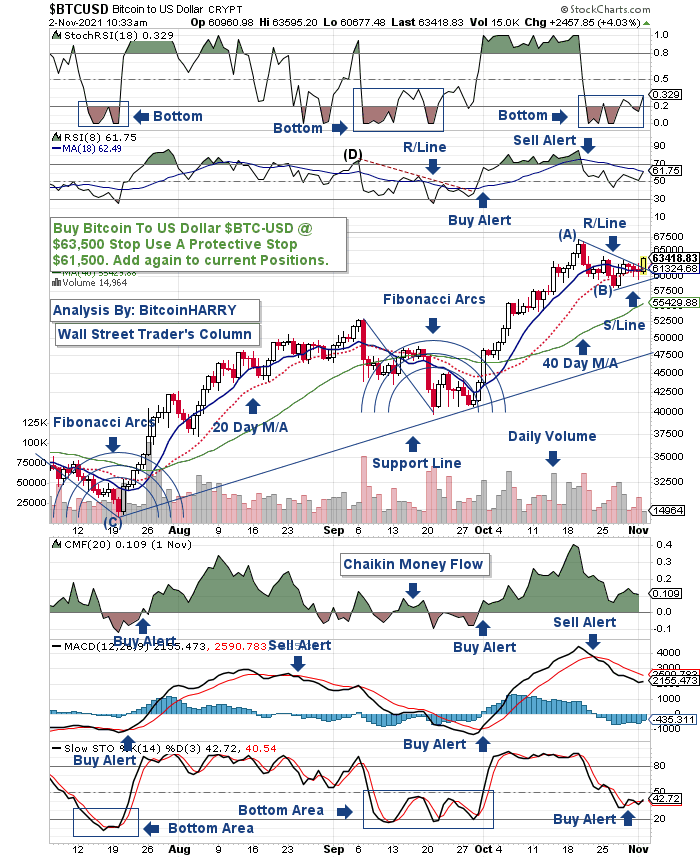 Trade width Caution and use Protective Stops
Daily Feature Report: Bitcoin To US Dollar ($BCH/USD): Technical Viewpoint: From a low of $39,367.17 on Sept 21, 2021 prices rallied, reaching a high of $66,980.66 on Oct 20, 2021. A decline saw prices pull back, reaching a low of $58,128.18 on Oct 31, 2021. Technicals: Moving Average Convergence Divergence (MACD): A Sell Alert! was given on Oct 24, 2021, when the black line crossed the red line to the downside. Stochastic Oscillator: (STOC) A Buy Alert was given on Oct 30, 2021, when the black line crossed the red line to the upside. Chaikin Money Flow: Crossed the (O) line to the plus side on Oct 30, 2021. Support & Resistance: Support remains at $58,128 Resistance: Is at $60,863. Summary: Technical indicators have turned bullish
---
BUY! Bitcoin To US Dollar ($BCH/USD): @ $63,500 Stop Use a protective stop of $61,500 Price Objective: $81,000 Risk/Reward: $2,000 VS. $18,000 Today's Risk Reward Ratio: 9:1. This is a"Low-Risk Entry Point" Trade Recomendation. Add to recent recommendation Of Oct 31, 2021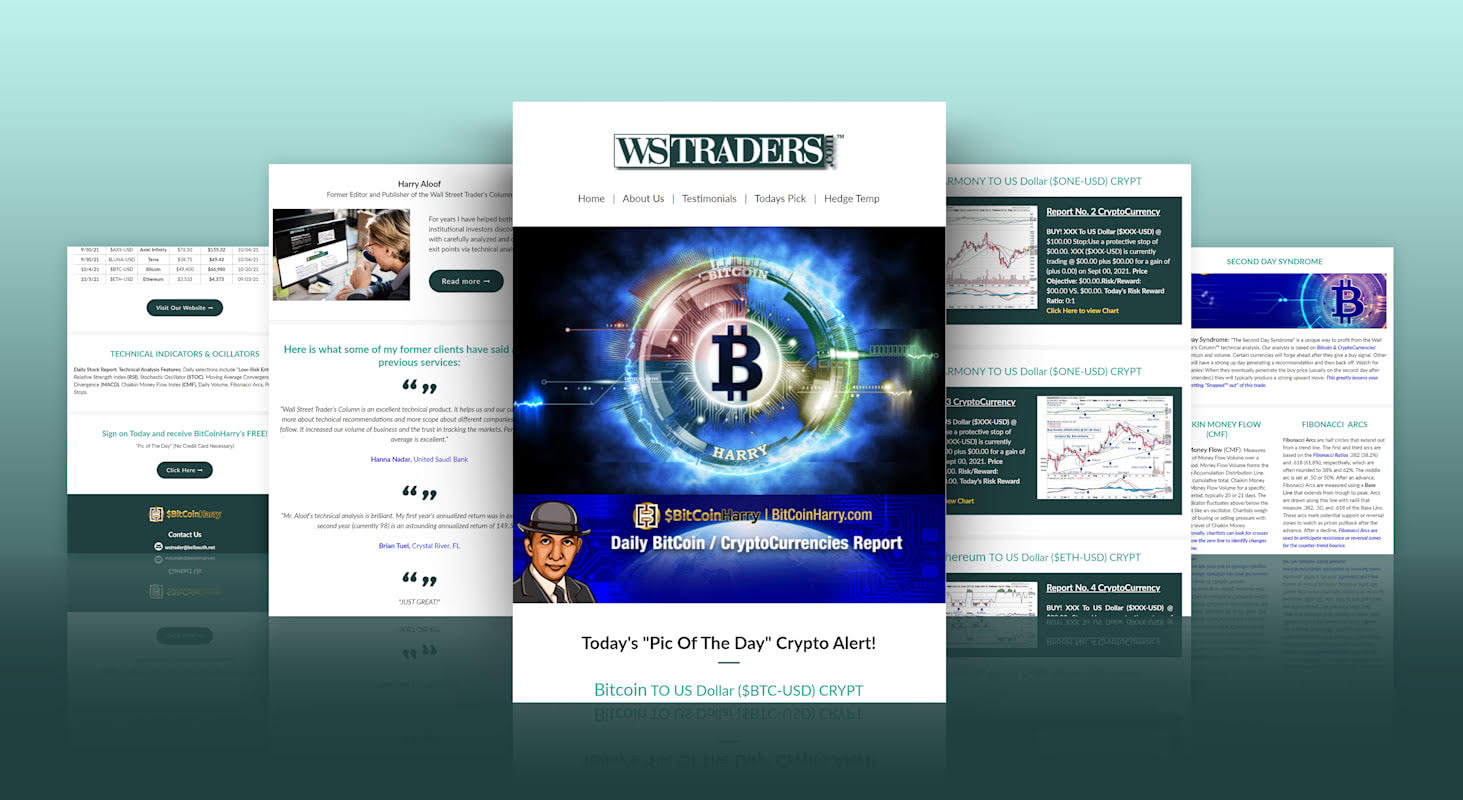 ---
This report is not intended as an offering or a solicitation of an offer to buy or sell the securities and futures mentioned. While all information is derived from sources we deem reliable, we do not represent that it is accurate or complete. Such information and the opinions expressed are subject to change without notice. WALL STREET TRADER'S COLUMN™, its officers, stockholders, and employees and their families may have a long or short position in, or may at any given time purchase or sell, the securities or options relating thereto. www.wstraders.com Copyright 2021
---
EDITOR & PUBLISHER: Harry Aloof Cranford, New Jersey 07016 * wstrader@bellsouth.net * This message is sent in compliance with the new email bill section 301. Per Section 301, Paragraph (a)(2)(C) of S. 1618, further transmissions to you by the sender of this email may be stopped at no cost to you here. Your request to be removed will be processed within 24 hours. Please Do Not Reply to this message if you wish to be removed. Institutional subscription rates are available: There are no refunds after the Free Trial period.